Fusion
 The piece is principally a mere DJ set; the only material applied is records, the only instrumental technique is mixing, i.e. shifting the volume controllers back and forth. To structure the sequence, I use the serial technique; instead of twelve tones, I organize twelve musical genres here, each of which is represented by a single piece of music chosen by the performer; each piece is assigned a fixed duration (between 10 and 60 seconds); the two performers run through the series in reverse order.
 Since the late 1970s, the putting on of records has advanced from a mere service provision to an art form in its own right; raising the question of what exactly is the essence of this art form. Traditionalists consider it to be the ability to keep a party going at high intensity, while proponents of so-called 'turntabelism', a discipline that emerged in the 1990s, see it in the extraordinary ability to operate as many turntables as possible at the same time, pixelating together pieces of music from tiny samples at top speed. My own approach is to create unusual contexts and enable new listening perspectives through montage and cross- fading of contrasting musical genres.
 The title 'Fusion' alludes to the technique of fusing musical style elements of different origins, as is common mainly in the realm of ethno-pop. While in the latter, however, the foreign element is incorporated in a postcolonial manner and adapted to the consumer habits of a conflict-averse audience, here I refer to the surrealistic procedure of the object-trouve by letting the musical fragments collide with each other in their original state. The actual fusion is supposed to take place in the listener's mind.
 Premiered 2015 in Hamburg, at Golden Pudel Club, By Nika Son und Charly Knabe.
My sheet music is available through Frog Peak Music.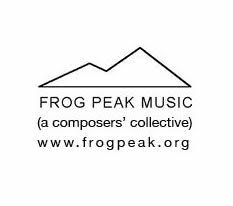 Fusion
 Das Stück ist im Prinzip ein reines DJ-Set; als einziges Material kommen Schallplatten zum Einsatz, als einzige instrumentale Technik das Mixen, also das Vor- und Zurückschieben der Lautstärkeregler. Zur Strukturierung des Ablaufs setze ich die Reihentechnik ein; anstelle von zwölf Tönen organisiere ich hier zwölf musikalische Gattungen, von denen jede durch ein einzelnes Musikstück repräsentiert wird, das der Interpret selbst auswählt; jedem Stück ist eine festgelegte Dauer (zwischen 10 und 60 Sekunden) zugeordnet; die zwei Interpreten durchlaufen die Serie in jeweils umgekehrter Reihenfolge.
 Seit Ende der 1970er Jahre ist das Auflegen von Schallplatten von einer bloßen Dienstleistung zu einer eigenen Kunstform avanciert; dabei stellt sich die Frage, was genau die Essenz dieser Kunstform ist. Traditionalisten halten sie für die Fähigkeit, eine Party mit hoher Intensität am Laufen zu halten, während die Vertreter des so genannten 'Turntabelism', einer in den 1990er Jahren aufgekommenen Disziplin, sie in der außergewöhnlichen Fähigkeit sehen, möglichst viele Plattenspieler gleichzeitig zu bedienen und dabei aus winzigen Samples in Höchstgeschwindigkeit Musikstücke zusammenzupixeln. Mein eigener Ansatz ist der, durch Montage und Überblendung kontrastierender Musikgattungen ungewöhnliche Zusammenhänge zu schaffen und neue Hörperspektiven zu ermöglichen.
 Der Titel Fusion spielt auf die Technik der Verschmelzung musikalischer Stilelemente unterschiedlicher Herkunft an, wie sie hauptsächlich im Bereich des Ethno-Pop üblich ist. Während bei letzterem jedoch das Fremdelement in postkolonialer Manier einverleibt und den Konsumgewohnheiten einer konfliktscheuen Zuhörerschaft angepasst wird, beziehe ich mich hier auf das surrealistische Verfahren des Objekttrouve, indem ich die Musikfragmente in ihrem ursprünglichen Zustand miteinander kollidieren lasse. Die eigentliche Fusion sollte im Kopf des Hörers stattfinden.
 Uraufgeführt 2015 in Hamburg, im Golden Pudel Club, von Nika Son und Charly Knabe.
Meine Noten sind erhältlich bei Frog Peak Music.